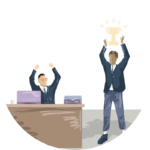 Offshore engineering
Our Customer is a company in Offshore engineering
Company Background
One of our Clients in the area of Rotterdam is looking for an experienced:
Technical support and infrastructure engineer. You are confident about your abilities IT and OT systems, industrial networks, cyber security and open to suggestions. You are eager to contribute technically to projects and also are eager to share your knowledge and experience with your colleagues. In this role you will be responsible to support project teams in the designing, testing, configuring, maintaining and improving the infrastructure in line with set cyber security targets.
Our client is recognized for providing design & engineering consultancy for mobile offshore units and the design, engineering and supply of equipment. They enable and support safe and efficient operations at sea, contributing to a sustainable future.
Pioneering is their DNA. Exploring new technological fields, to curb the power of nature and leaving the landmarks of tomorrow.  With a team of more than 150 ambitious professionals they help their clients to move forward in a hazardous domain that involves risks for people, materials and the natural environment. As a result, we have adopted an attitude of openness and accountability.
They are looking for a technical support and infrastructure engineer who wants to work at ships all around the globe!!
Primary responsibilities
Based in their office in the area of Rotterdam, you will be reporting to the Lead Engineer.
Enhancing the security, resilience, and reliability of infrastructure of the company monitoring and control systems
Safeguards information system assets by identifying and solving potential and actual security problems.
Protects system by defining access privileges, control structures, and resources.
Provides technical support during integration, testing and production stages
Contributes to team effort by accomplishing related results as needed.
Qualifications
Ability to plan, see required sequence of work, distinguish main and side issues, see the bigger picture.
Knowledge of IT and OT systems
Knowledge of industrial networks
Bachelor degree (BSc) in Information Technology or equivalent.
Relevant work experience (> 5 years).
Good command of the English language, both written and spoken.
The ideal candidate exhibits a proactive, analytical and positive attitude, as well as outstanding collaboration skills.
What they offer
The ability to contribute to design, delivery and customer support of equipment that will power and shape our future, making an impact in the energy transition.
A safe and inspiring work environment where your contribution is highly valued, and personal development is key.
Working in a modern and spacious office and the flexibility to work from home.
Several social events stimulating our close cooperation.
Competitive salary and good secondary benefits.
Personal development opportunities.
Sollicitatie
Solliciteer of stel een vraag via de "solliciteer nu" button! We ontvangen bij een sollicitatie graag je CV en motivatiebrief. Onderschrijf in je motivatiebrief los van je algemene motivatie svp ook de functie-eisen per eis. Svp puntsgewijs aantonen dat je voldoet aan de functie-eisen of toelichten hoe jij denkt dit dan wel aan te vliegen als je niet (helemaal) aan de eis voldoet.